This is where custom printing begins.
Graphicsland, Inc. is a privately held corporation based in Tinley Park, IL. We started in business in 1973 and incorporated in 1979 as "Feil Productions, Inc." During the 80's we started using the trade name "Graphicsland" and changed our corporate name in 2008 to "Graphicsland, Inc."
Our Mission
Here at Graphicsland we aim to make high quality graphic output available to the general public through innovative online design technologies, innovative order processing, and extraordinary customer support.
Our Vision
At Graphicsland we want to become the industry leader for online custom designed bumper stickers, the industry leader for online custom designed POP short term signage, and the industry leader for research poster printing.
Our Values
Empathy
We will empathize with each other and our customers in order to be better servants.
Speed
We will do everything more quickly than necessary.
Simplicity
We will keep our internal and external procedures and processes as simple as possible.
Recognition
We will recognize outstanding performance in our employees and suppliers.
Team Spirit
We will foster an atmosphere of teamwork and mutual respect.
Flexibility
We will remain flexible in order to meet the changing demands of the marketplace.
Communication
We will communicate openly and honestly with each other and our customers.
Meet our team.
Jerry
CEO
Adam
President
Matt
Vice President
Tony
Sign Production Manager
Justin
Creative Director
Murphy
Treasurer
Kevin
Product Director
Drew
Sticker Production Manager
Luke
IT Manager
Jessica
Art Director
Jenna
Customer Service
Jordyn
Customer Service & Designer
Matt B
Prepress Operator & Sign Associate
Becka
Sign Associate
Cindy
Prepress Operator
Karen
Client Services
Erik
Developer
Andrew
Front End Developer
Want to join the team? Check out our open positions
35 years of history.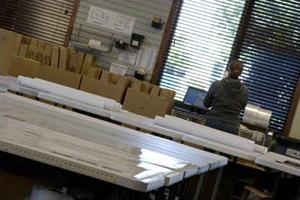 In the beginning Graphicsland was started as "Jerry Feil Productions" in 1973 by Jerry as a college student. The first projects for Jerry Feil Productions were designing audio-visual training programs for a popular audio retailer as well as producing many radio and TV commercials. In 1978, Sharon and Jerry were married and the company was incorporated as "Feil Productions Inc."
In 1982, we purchased our first office condo, located on Oak Park Ave in Tinley Park. At 1200 square feet, the condo seemed enormous. At the time, we only had one computer, an Apple II.
In the 80's, we incorporated video production to our capabilities and expanded our technical training clients. We produced over 100 programs for Commonwealth Edison, including training programs used by all employees of ComEd nuclear plants.
The 80's brought another innovation – computers. We began creating graphics and 35mm slides using computers rather than traditional typesetting and paste-up.
During the 90's, personal computers were much more prevalent. Our customers were creating their own graphics using Harvard Graphics and PowerPoint and 35mm slides were widely used in presentations. We developed easy ways to send files via modem to us for converting into slides. During this time we started using the name "Graphicsland" while our corporate name remained "Feil Productions, Inc."
Toward the late 90's, as 35mm slides were on the way out, we saw business start to decrease and asked, "What do we do next?" Many of the slide service bureaus added wide format printing services to supplement their business. While pondering ways to bring wide format printing to the end user, we came upon the idea for a web site where you could interactively design your own signs and banners, and have them printed inexpensively with a quick turnaround. It hadn't been done before, but we were able to create a software engine to create graphics instantly online. We launched a website called MakeSigns.com and went into business doing online signs.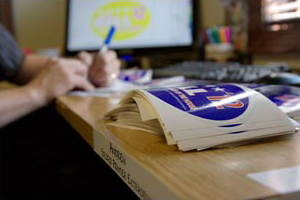 The growth of the business in the 2000's has been strong and steady. Associated markets include printing of scientific research posters for universities and hospitals. We've also developed marketing alliances with several franchise organizations, allowing their store owners to create custom promotional signs from corporate approved templates. We purchased additional office space in Tinley Park in 2001 and 2003. We purchased our own office building in 2005.
As we looked to utilize the online design software engine in other markets, bumper stickers came to mind. If there was a way to print a single bumper sticker that could survive weather conditions, there would be a new market. After a number of months of R&D, we finally figured out a proprietary way to print stickers, and launched Makestickers.com. This was right before 9/11/01. The events that have unfolded since then have caused Americans to be more vocal than ever in expressing their views. Many of them found our web sites and made their views known in the form of bumper stickers. Others have used our stickers to promote their band, school or business. A quirky little idea for an online web site has resulted in thousands of customers and the sale of millions of stickers.