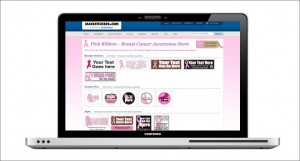 October is Nation Breast Cancer Awareness Month and Graphicsland, Inc is offering many ways for you to show support for your loved ones.  Graphicsland Inc. and its divisions MakeSigns.com, MakeStickers.com & MakePins.com have formed a team with The Cancer Support Center to offer an entire variety of Pink Ribbon customizable products. In addition to making a donation year round to The CSC, throughout October, Graphicsland is taking 50% off all Pink Ribbon products. These fully customized and personalized signs, stickers, and pins can be used at your next charity event, 5k race, Cancer Sucks party, or just to show a survivor they are loved.
More Information: Graphicsland Inc. Partners with The Cancer Support Center To Promote Breast Cancer
Awareness and Support (Press Release).