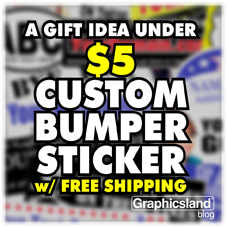 Wondering how to impress for a whole lot less this holiday season? MakeStickers.Order a custom bumper sticker from MakeStickers.com for just $4.95! An expansive online selection of themed, colorful sticker designs lets customers add their own text and choose from a range of fonts and colors. An instant preview allows users to modify or proceed to order the sticker on their secure website. If you are the artistic type, feel free to design your own 3×10, 4×6 oval or 3"circle and upload for printing for just $4.95. Free shipping is available on all U.S. orders. Paid orders are printed and shipped within 24 hours.
With a majority of online shoppers saying they are motivated by convenience, MakeStickers.com has an easy to use, updated website that makes creating and ordering custom stickers not only easy, but fun! There are online templates perfect for anyone on the gift list. Sticker designs for sports fans, pet lovers, political junkies, and breast cancer awareness as well as funny and generic designs are customizable online. No other company provides the individuality of a totally custom gift, complete with shipping to your door before the holidays all for under $5.
"We are happy to offer people a totally exclusive gift, which is affordable that allows both giver and receiver some fun in the sometimes stressful holiday shopping experience," says Andrew Bolek, MakeStickers.com manager.
Made of high quality polypropylene material, stickers from MakeStickers.com will last long past winter and deep into the next year. The unique printing process produces a sticker with a long lasting, glossy, fade resistant finish.
Other great, affordable gift ideas from the Graphicsland, Inc. family of websites include custom signs and posters printed from your photos, or created using online templates available at MakeSigns.com, starting at $12.95. Check out MakePins.com for an amazing selection of templates for custom pins, also just $4.95 for one.